Divided by the rules: Citizenship rights after Brexit
January 14, 2019
To say there is still confusion about the practical implications of Brexit is an understatement. One area over which there remains numerous questions is the impact of Brexit on the rights of people born or living in Northern Ireland depending on their citizenship status.
Currently, people resident in Northern Ireland generally fall into two citizenship status categories:
EU/European Economic Area (EEA) citizens – who have access to work and services/benefits in NI, plus freedom of movement in the EU and access to other EU rights. This category includes both Irish and British citizens.
Non-EU/EEA citizens – who don't have EU rights and are heavily restricted in access to work and services/benefits in NI.
However, the UK's exit from the EU will create many more categories of citizenship in Northern Ireland. Additionally, the draft Withdrawal Agreement – which as it stands does not permit continued freedom of movement into NI – places every group at some form of disadvantage.
We have created the table below to show what citizenship rights will look like across each category come the end of the Brexit transition period if plans remain the same.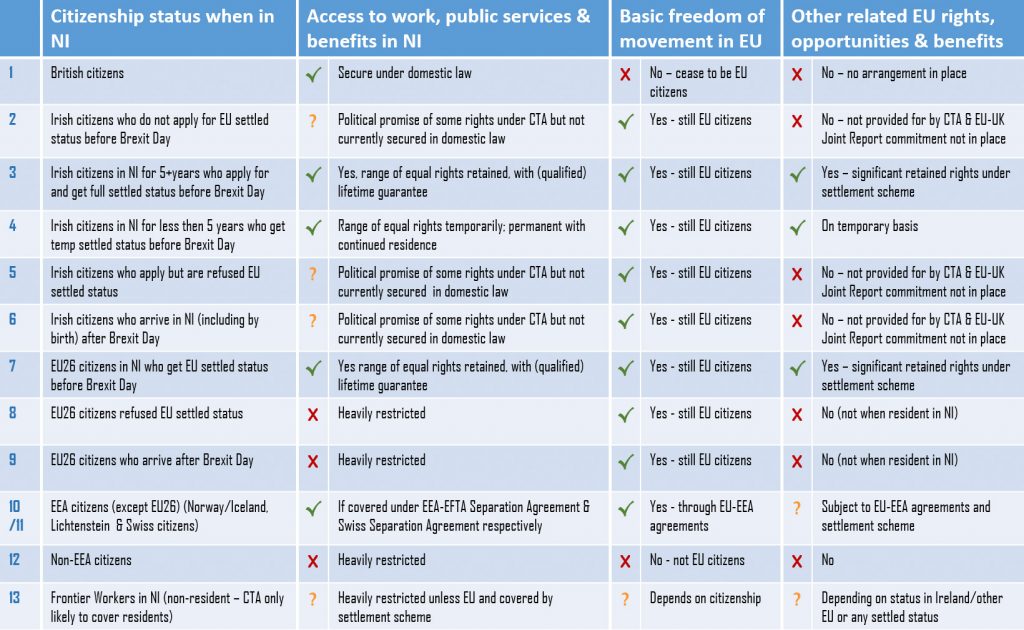 There is a danger that the creation of these new categories could lead to racial profiling becoming more widespread in Northern Ireland. This is, however, not the only major problem associated with the changes. The provisions in the Good Friday Agreement (GFA) ensure equal treatment of British and Irish citizens in Northern Ireland, yet post-Brexit they will find themselves in separate citizenship categories. It is difficult to see how this new inconsistency can easily be resolved.
Our Deputy Director, Daniel Holder, has written a feature article for The Detail exploring all of these issues in greater depth. This is available now (for free) from The Detail website: http://bit.ly/2QNmt1y
The above table is available for direct download via this link.
Please any direct media enquiries related to this story to Robyn Scott, Communications & Equality Coalition Coordinator. Email robyn@caj.org.uk or call 028 9031 6000.